Enphase IQ Microinverters and IQ Batteries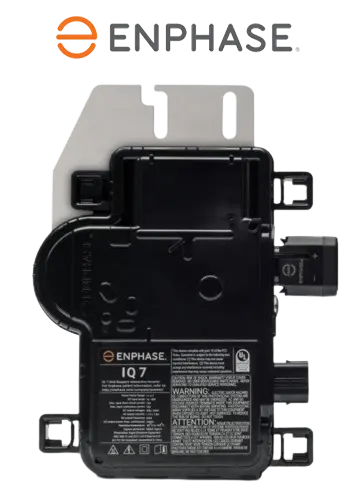 When it comes to solar energy, safety is paramount. That's why Enphase has redefined the standards with their groundbreaking products. The Enphase IQ Microinverter design stands as the epitome of safety, offering a solar solution that eliminates the risk of fault fires by removing high-voltage direct current (DC) power from the equation. Gone are the concerns associated with traditional systems that rely on central inverters. With Enphase, peace of mind is guaranteed.
But the innovation doesn't stop there. Enphase IQ Batteries have made waves in the industry by becoming the first microinverter-based storage system to meet the stringent performance criteria of the UL 9540A. This rigorous unit-level test focuses on thermal runaway fire propagation protection in residential indoor wall-mounted systems. Enphase IQ Batteries have successfully passed this test, setting a new standard for safety in solar energy storage.
What is a microinveter?
Microinverters are tucked beneath each of your solar panels on your roof and are designed to convert direct current (DC) power into alternating current (AC) – the form of electricity that your home or business uses. What makes microinverters different from that of a regular inverter, is that they operate independently – ensuring each panel is performing to its fullest. If one panel is shaded or dirty, with mircoinverter technology, the rest of your system and consequent solar generation won't be impacted.
What is a solar battery?
Solar batteries are essential for efficient and reliable solar energy systems. They store excess electricity generated by solar panels and provide power when the sun is not available or during high-demand periods. Like microinverters, solar batteries convert and store energy for later use, reducing reliance on the grid and optimizing energy consumption. By incorporating solar batteries, you enhance the reliability and resilience of your renewable energy system, ensuring access to clean power even in the absence of sunlight.