Provider of sustainable solar energy solutions in Australia
Discover versatile solar system installation services in Australia. Dive deeper into our sustainable solar energy solutions and witness a transformative approach to green energy. Choose us for excellence and commitment in every installation.
Solar installation benefits from SAE Group
Solar installation with SAE Group ensures a greener tomorrow. Trust in our legacy of excellence and commitment. Dive into the detailed benefits below and embark on a sustainable journey with us.
Solar installations for a blackout-proof space
Harness the power of the sun and embrace renewable energy solutions with SAE Group, your trusted provider of solar power system installation services. We are committed to quality and expertise and cater to diverse needs, offering tailored solar systems for homes, businesses, and commercial spaces. With our wealth of experience, we ensure seamless installations that meet your energy needs.
Comprehensive services
As solar experts, we provide a wide array of services, from complete solar power system setup to solar battery installations, solar panel installations, and system maintenance. We offer an extensive range of system and battery options suited to every home, lifestyle, and establishment, whether you're aiming to lessen your energy bills or planning to reap the benefits of a totally off-grid solar system. Our team of experts will guide you through the selection process, ensuring you have the ideal solution to maximise your solar energy usage.
Trusted experts
Discover the SAE Group difference and unlock the potential of solar power for your space. Experience peace of mind knowing that our reliable solar installation services will empower you to embrace sustainable energy solutions, reduce your carbon footprint, and secure a brighter future. Explore our brand and the comprehensive services we offer, and let us embark on this transformative solar journey together.
Explore the different types of solar power system
When considering a solar power system installation, it's crucial to understand the types of systems available and their respective advantages and disadvantages. Here's a short breakdown of the main types: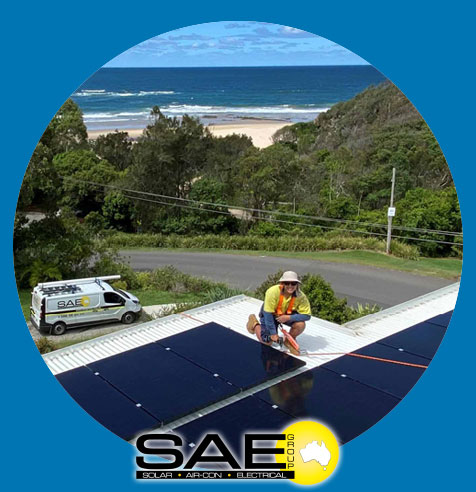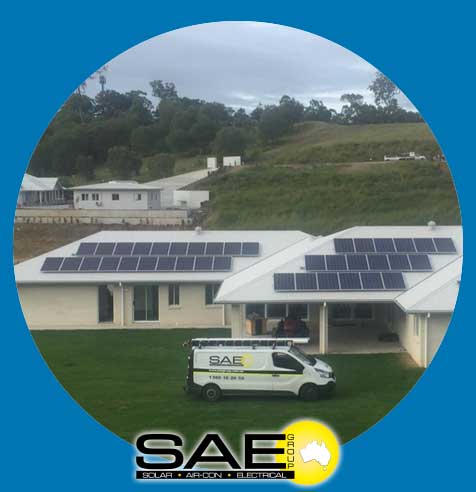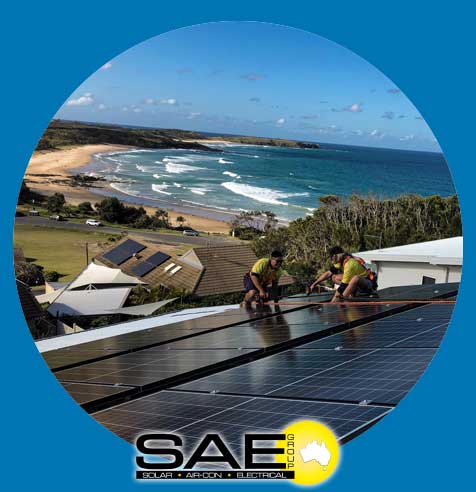 Choosing the right system depends on your specific needs and circumstances. At SAE Group, our experts will assess your energy requirements and guide you towards the most suitable solar power system for your needs.
It's time to make the switch
Switching to solar gives you control of your electricity bills, reduces your carbon footprint and qualifies you for government incentives. Make the change today with SAE Group's solar panel installation services.
Power your home and business with solar all day. Fully utilise the power of the sun by adding a battery to your system so you can store more energy for later! Our solar battery installers are here to help.
Don't be afraid, our team will tell you everything you need to know about the latest and the safest solar energy solutions in Australia. Rest assured that we'll get you off the grid ASAP, without compromises.
Honest customer reviews from actual customers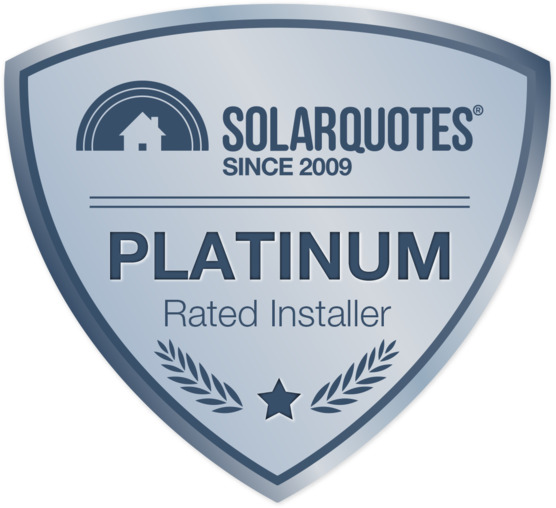 Schedule a consultation with our team
SAE Group is a highly recommended provider of solar energy solutions in Australia. If you're ready to make the switch to more sustainable energy, we're happy to get you started.
Empower energy independence with off-grid solar systems
Off-grid solar systems provide a reliable and sustainable solution for generating electricity independently, without relying on the utility grid. So if you are after contributing to a healthier environment without worrying about having a secure energy source wherever you are, considering an off-grid solar installation is a wise option.
With their ability to operate independently from the utility grid, off-grid systems offer many applications and advantages anywhere in the world. Whether for homes without access to the grid, remote locations, or mobile dwellings, off-grid solar systems provide a reliable and sustainable solution for accessing electricity and embracing a more independent energy future.
Solar energy solutions for residential and commercial properties
SAE Group's solar system installation offers customisable options to meet the needs of residential and commercial properties.
Tailored solar solutions
Whether it's a rooftop solar installation or ground-mounted solar panels, the system size and design can be tailored to optimise energy production.
Cost savings
With lower or eliminated electricity bills and potential incentives such as net metering, property owners can enjoy long-term financial benefits.
Environmental benefits
Solar power helps reduce carbon footprint and promotes cleaner and more sustainable energy generation, contributing to a greener environment.
Financing options for installations
Options include solar loans, power purchase agreements (PPAs), and government incentives, enabling property owners to install solar systems with little to no upfront costs.
Transitioning to solar has become more affordable and accessible than ever before. So take charge of your home and business energy needs and learn more about our solar options today.
Solar energy solutions for residential and commercial properties
With the rise of sustainable energy solutions, solar contractors are the catalysts in bringing efficient solar power to both residential and commercial properties.
Expertly Crafted Solar Configurations
From rooftop installations to expansive ground-mounted setups, solar contractors ensure the system's size and design are meticulously matched to yield maximum energy efficiency for the space.
Economic Advantages
Transitioning to solar not only reduces or completely offsets electricity costs but it also opens doors to potential perks like net metering, which can provide significant long-term financial gains.
Commitment to a Cleaner Tomorrow
By spearheading the shift to solar power, solar contractors play a part in diminishing carbon emissions, championing a more sustainable and environmentally friendly approach to energy consumption.
Flexible Financial Pathways
Solar contractors often facilitate a variety of financial options, such as solar-specific loans, power purchase agreements (PPAs), and even assistance in availing government incentives, making solar installations achievable with minimal upfront expenditures.
Stepping into the realm of solar energy is more attainable and cost-effective than many realise. Engage with a trusted solar contractor and illuminate your space with the future of energy. Discover our diverse solar solutions to level up your energy game.
Gain Energy Freedom with Off-Grid Solar Systems
Rising electricity bills and reliance on inconsistent power grids can be frustrating. An off-grid solar system offers a liberating alternative. Imagine the freedom of producing your own electricity, eliminating monthly bills, and enjoying sustainable living with SAE Group's solar energy solutions.
These systems empower you with energy independence, secure from the financial unpredictability of traditional utilities. They're not just environmentally responsible, tapping into the limitless power of the sun, but also economically prudent over the long term. With SAE Group, you can easily go off-grid with durable solar panels in your Newcastle, NSW property for a smart financial move.
Our solar panels are designed for resilience and efficiency, ensuring that your investment in solar pays back dividends in savings and peace of mind. Opt for SAE Group's off-grid solar systems, and take a step towards a self-sufficient, cost-effective energy future.

How our solar installations work
SAE Group ensures a hassle-free journey towards clean and sustainable energy. Here's how we do it:

Frequently asked questions about solar system installations
At SAE Group, we understand that you may have questions about solar system installation. We've compiled a list of frequently asked questions to provide you with the information you need to make an informed decision.
1. How long does a solar power system installation take?
The duration varies based on the complexity of the project. On average, the solar installation process takes between one to three days.
2. How long does a solar system last?
Solar systems are designed to be durable, with an average lifespan of over 25 years. The panels usually come with a performance warranty of 25 years.
3. What is the return on investment for a solar system?
The return on investment depends on factors such as energy usage, system size, and available incentives. On average, most homeowners can recoup their investment within 5 to 7 years.
4. Are there any incentives or rebates available for solar system installations?
Yes, there are various incentives and rebates offered by government bodies and utility companies. These can include solar rebates, feed-in tariffs, and tax credits. Our team can guide you through the available options.
5. Can I add more panels to my system in the future?
Yes, solar systems are scalable. You can easily expand your system by adding more panels if your energy needs increase. However, this is not guaranteed as an expansion means you would also need to upgrade other components of your system.
6. What are the advantages of an off-grid solar system?
Off-grid solar systems offer several advantages, including energy independence and the ability to power remote locations without access to the grid.
We hope this FAQ section has addressed some of your questions about our solar energy solutions. At SAE Group, we're here to provide you with expert guidance, exceptional service, and a smooth installation experience.
7. In which areas does SAE Group offer solar installation services?
SAE Group proudly serves a wide range of areas, including solar panel installations in Newcastle NSW, expert solar electrician services in Brisbane, and comprehensive solar monitoring in Lake Macquarie. Our experienced team is equipped to provide high-quality solar solutions tailored to the unique needs of each locale.